---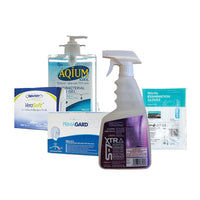 great value
Brenniston Hygiene Essentials Workplace Starter Pack #1
20320305
Sale price $120.00 Regular price $128.40
The Brenniston Hygiene Essentials Workplace Starter Pack #1 helps workplaces adhere to their COVIDSafe Plans by providing a range of hygiene essentials.
The Brenniston Hygiene Essentials Workplace Starter Pack #1  helps stop the spread of infection by enabling good cleaning and PPE practices in the workplace. 
A perfect starter kit for workplaces re-opening with a COVIDSafe Plan after lockdown
Australian-made Aqium hand sanitiser comes with FREE wall bracket

Australian-made 

S-7XTRA disinfectant surface spray has a unique barrier system for long-lasting hygiene protection
Contents regulated and safeguarded by Therapeutic Goods Administration
Developed under Australian First Aid in Workplace National Code of Practice
Proudly designed and produced in Australia
Ideal for all workforces
Who buys this? Employers practising good hygiene, personal protection and temperature checking
Kit Contents
50 x Anti-Fogging Face Masks Disposable
20 x Nitrile Gloves Disposable
1 x Aqium Hand Sanitiser 1L 
1 x 
Aqium Hand Sanitiser 1L Wall Bracket
1 x S-7XTRA Disinfectant Surface Spray 750ml
100 x Low-lint Multi-Purpose Towels 


Workplace Compliance
Australian workplace health and safety inspectors can enter your business at any time to check your compliance with Work Health and Safety laws.
Failing to provide a safe Australian workplace leaves you liable to fines up to $800,000. Your business can be forced to close. You can even end up in prison.
As a person conducting a business or undertaking, it's your responsibility to provide access to a suitable workplace first aid kit at all times. Choosing the right Brenniston National Standard Workplace First Aid Kit is easy. It assures you Australian workplace health and safety compliance.
The workplace first aid kit contents should be based on a risk assessment of the nature of the work, the hazards, size, location and the nature of your workplace, and the number and composition of the workers there.
The number of people the workplace first aid kit is suited to must include contractors and volunteers. Suitability is based on the first aid kit's contents and suggested uses, in conjunction with your own workplace risk assessment.