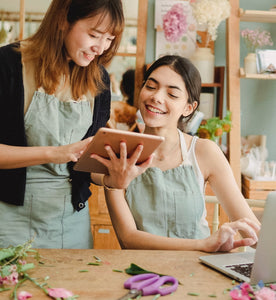 Ready to be a workplace first aid leader?
Getting the right first aid kits and supplies for your workplace can be confusing.
It's not easy when work health and safety (WHS) laws and regulations in Australia are so complicated.
Our Brenniston National Standard helps you and your workers with an exclusive range of quality kits made in Australia for Australian workplaces.
Becoming a workplace first aid leader has never been easier.
SEE KIT RANGE
Take the guesswork out of finding the right kit
1. Select workplace category
Click 'Workplace First Aid Kits' in menu to choose workplace category.
2. Decide type of first aid kit
Determine workplace risk and size. Choose between fixed or portable.
3. Get free shipping
Free shipping and delivery Australia-wide on all online orders over $149.
"Amazing company! I urgently needed specific kits and Brenniston got them onsite with hours to spare!" Meredith
Frequently Asked Questions
What first aid am I required to provide for my workers?

Under Australian law, a person conducting a business or undertaking (a PCBU) has a duty to ensure the health and safety of their workers. This duty includes the immediate and effective provision of first aid to workers or others who have been injured or become ill at their workplace. They also need to provide access to appropriate first aid kits and supplies. Information about workplace first aid health and safety requirements can be found in the First Aid in the Workplace Code of Practice, part of the national Work Health and Safety Act.
How do I know the risks and hazards at my workplace?

Incident reports, staff consultations, safety monitoring and inspections will help identify risks and hazards at your workplace. Knowing the risks and hazards that can cause injury or illness will help you choose the most suitable workplace first aid kit. Your workplace may require more than one first aid kit depending on its size and location, the nature of the work and the number and composition of the workers there. Or you may need to supplement a standard workplace first aid kit with a specialist module for burns, eyes or snake bite, if these risks and hazards are present at your workplace.
What size workplace first aid kit do I need?

The size of your workplace first aid kit depends on the nature of the work and the number and composition of the workers and others who work there. When considering the size of your workforce, you should include contractors, subcontractors and volunteers you engage. This means the size of your workforce may vary over time. Our first aid kits are designed for specific Australian workplaces, hazards and workforces
How do I use a workplace first aid kit?

Familiarise yourself with the contents before an emergency. Study the Emergency Instructions sheet provided, a first aid manual or enrol in a in a Basic First Aid training course. A compliant workplace first aid kit should include applications to clean, cover and protect wounds, flush eyes, support sprains and strains, manage shock, heavy bleeding and burns, and equipment to cut, handle and fasten these applications.
Can you come to my workplace and do a first aid kit audit?

One of our experienced First Aid Kit Auditors can check your kit for compliance and expired stock, and design a program to manage your first aid stock levels. Take the stress out of keeping your first aid kits up-to-date and up to standard. Call Brenniston Customer Care on 1300 730 079 to arrange an audit, or complete the form on our Brenniston First Aid Kit Audit page.
How long does a workplace first aid kit last?

Every Brenniston workplace first aid kit has a minimum shelf life of 18 months from the date of manufacture batch code. You should check your workplace first aid kit after each emergency or accident and replace used supplies immediately. Regularly check for expired stock. Items that commonly need replacing are antiseptic sprays, eyewashes, bandages and adhesive dressings. The item's expiry date is preceded by a small hourglass symbol. A factory symbol followed by a date represents the date of manufacture. If the manufacture date is older than 18 months, the item needs to be replaced.
How does a Brenniston National Standard workplace first aid kit plant native forests?

We partner with Greenfleet to plant native forests that absorb carbon emissions, improve soil and water quality, and restore habitat for native wildlife, including many endangered species. Every time you buy a Brenniston National Standard Workplace First Aid Kit online, we donate $1 to Greenfleet to keep planting trees across 500 native forests in Australia and New Zealand.
---
Most popular workplace first aid kits