---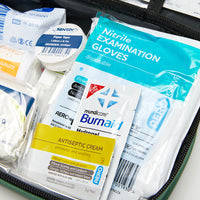 Brenniston Low Risk Workplace First Aid Kit Refill
20401706
Stash a Brenniston Low Risk Workplace First Aid Kit Refill multi-tasker in your desk drawer, shop counter or carry-on case and you'll never be scrambling for help again.
Whether you're desk-bound or on the road, you'll find immediate relief from those everyday ouch! moments.
Contents refill the Low Risk Workplace First Aid Kit without the expense or waste of purchasing a new container
Essential range of first aid to treat everyday minor injuries
Contents regulated and safeguarded by Therapeutic Goods Administration
Developed under Australian First Aid in Workplace National Code of Practice
Proudly designed and produced in Australia
Suited to 1 to 5 people
Ideal for Office, Retail, Home, Travel
Who buys this? Office Workers, Shop Keepers, Travellers
Kit Refill Contents
2x Antiseptic Wipe Alcohol Free (1)
1x Antiseptic Cream Sachet 1g (1)
1x Dressing Plastic Latex Free (10)
1x Dressing Wound No. 14 Medium
1x Dressing Combine Pad 10cm x 20cm
1x Dressing Non adherent  5cm x 5cm
1x Dressing Non adherent 10cm x 10cm
2x Eye Pad Sterile 6cm x 8cm
1x Gauze Swab Sterile 7.5cm x 7.5cm (3)
1x Bandage Conforming Elastic Gauze 5cm
1x Bandage Triangular Disposable 110cm x 110cm
1x Tape paper Hypoallergenic 1.25cm
1x Burnaid Gel Sachet 3.5g (1)
2x Eyewash Saline Ampoule 15ml (1)
1x Scissors Blunt Nickel Plated 10cm
2x Forceps Dressing Plastic 110mm
1x Safety Pins Assorted (12)
1x First Aid Instruction Sheet
1x Glove Nitrile Disp Blue P/F Large (1 Pair)
1x Bag Press Seal 150mm x 230mm
1 x Resuscitation Face Shield Disposable  
1x Contents List
Refill For
Brenniston National Standard Low-Risk Workplace First Aid Kit
Brenniston National Standard Low-Risk Workplace First Aid Kit Clear Box
Workplace Compliance
Australian workplace health and safety inspectors can enter your business at any time to check your compliance with Work Health and Safety laws.
Failing to provide a safe Australian workplace leaves you liable to fines up to $800,000. Your business can be forced to close. You can even end up in prison.
As a person conducting a business or undertaking, it's your responsibility to provide access to a suitable workplace first aid kit at all times. Choosing the right Brenniston National Standard Workplace First Aid Kit is easy. It assures you Australian workplace health and safety compliance.
The workplace first aid kit contents should be based on a risk assessment of the nature of the work, the hazards, size, location and the nature of your workplace, and the number and composition of the workers there.
The number of people the workplace first aid kit is suited to must include contractors and volunteers. Suitability is based on the first aid kit's contents and suggested uses, in conjunction with your own workplace risk assessment.