---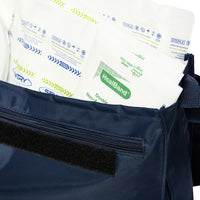 Brenniston Trauma First Aid Kit Refill
20403109
This is the first aid kit refill we hope you'll never need to use!
In high-risk workplaces, traumatic injury is a constant threat. Effective treatment with a Brenniston Trauma First Aid Kit Refill on hand can mean the difference between life and death.
Comprehensive first aid to treat substantial and multiple injuries
Heavy-duty carry bag with shoulder strap for grab and run emergencies
Generous size fits comprehensive first aid for high risk workplaces
Contents regulated and safeguarded by Therapeutic Goods Administration
Developed under Australian First Aid in Workplace National Code of Practice
Proudly designed and produced in Australia
Ideal for Construction, Heavy Industry, Remote Workplace
Suited to 1 - 3 people
Who buys this first aid kit refill? Construction Firms, Mining Companies, First Responders
Kit Refill Contents
2 x Dressing Universal Multi Trauma 90cm x 20cm
2 x Dressing Wound No. 14 Medium
2 x Dressing Wound No. 15 Large
4 x Dressing Non adherent Lite 7.5cm x 10cm
2 x Bandage Crepe Heavy Elastic 7.5cm x 1.8-4m
3 x Bandage Crepe Heavy Elastic 10cm x 1.8-4m
10 x Eyewash Saline Ampoule 15ml
1 x Shears Universal
1 x Blanket Thermal Accident
1 x Mask Pocket CPR
10 x Glove Nitrile Disposable Blue Powder Free Large
1 x Hand Sanitiser
1 x Contents List
Refill For
Brenniston National Standard Trauma First Aid Kit
Workplace Compliance
Australian workplace health and safety inspectors can enter your business at any time to check your compliance with Work Health and Safety laws.
Failing to provide a safe Australian workplace leaves you liable to fines up to $800,000. Your business can be forced to close. You can even end up in prison.
As a person conducting a business or undertaking, it's your responsibility to provide access to a suitable workplace first aid kit at all times. Choosing the right Brenniston National Standard Workplace First Aid Kit is easy. It assures you Australian workplace health and safety compliance.
The workplace first aid kit contents should be based on a risk assessment of the nature of the work, the hazards, size, location and the nature of your workplace, and the number and composition of the workers there.
The number of people the workplace first aid kit is suited to must include contractors and volunteers. Suitability is based on the first aid kit's contents and suggested uses, in conjunction with your own workplace risk assessment.